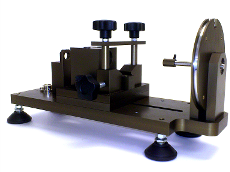 The AWS LTD 2Nm Calibration Machine (CR1020), designed to calibrate torque transducers, torque watches and torque screwdrivers, up to 2 Nm.
It is highly accurate and uses a disc and weights to apply torque. Weights applied at a known distance on the circumference of the disc via balanced suspension cords and weight pans.
The Versatile 2Nm calibration machine enables the tool to be accurately positioned, and held for calibration. Adjustable leveling feet with the spirit level indication allow it to be used on a variety of bench surfaces.
The CR1020 Features:
Capacity: 0.05 cNm to 2 N.m.

Uncertainty of measurement: +/- 0.2%

Clockwise and anti-clockwise

+/-270 degrees of freedom

Bench top mounting with leveling indication and adjustment.

Comes with own rugged travel and storage case.
To find out more download our pdf datasheet.